This module is for creating carts to retrieve unused track lines. Please note it doesn't work with a railer onboard.
The Track Remover
Edit
This attachment module lets you remove the tracks after for example a mining tunnel. You need a storage module to make this work because it doesn't have an internal storage.
This module does not work with any of the railers.
The cart will go to the end of the track line and turn around and start removing the tracks after it.
The tracks it removes will get stored in the storage module in the cart.
This is how it's made: you'll need 6 Iron Ingots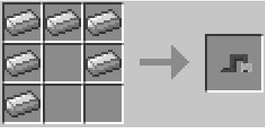 Ad blocker interference detected!
Wikia is a free-to-use site that makes money from advertising. We have a modified experience for viewers using ad blockers

Wikia is not accessible if you've made further modifications. Remove the custom ad blocker rule(s) and the page will load as expected.