This attachment module let you put tracks in front of the cart when it moves.
The Railer
Edit
This module has three slots for rails to go in.
It will put the rail in front of it if it is able to, if not it will head back unless it has a Bridge Builder.
This is how its made: you need 6 Stone Blocks, 1 Rail, and 2 Iron Ingots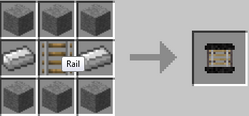 Ad blocker interference detected!
Wikia is a free-to-use site that makes money from advertising. We have a modified experience for viewers using ad blockers

Wikia is not accessible if you've made further modifications. Remove the custom ad blocker rule(s) and the page will load as expected.